Facilities
"One Love Garden" parcel
"One of the most sought-after pieces of property in the Hawaiian Islands."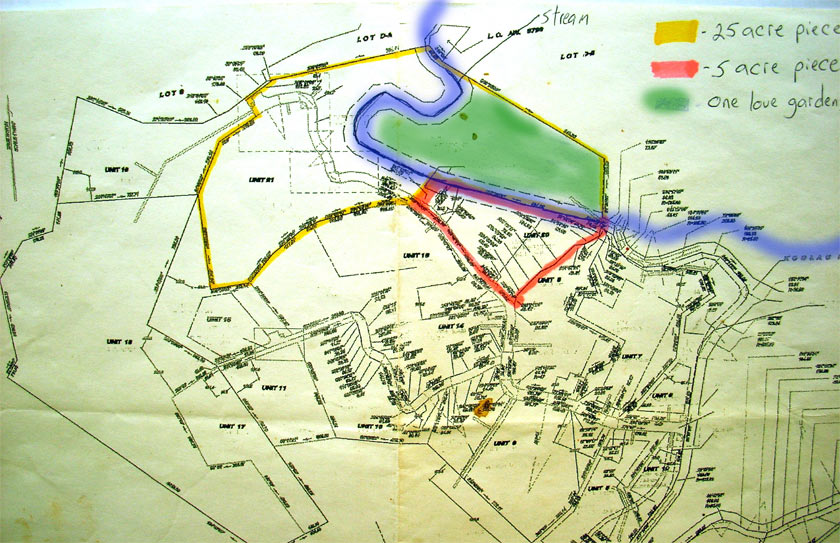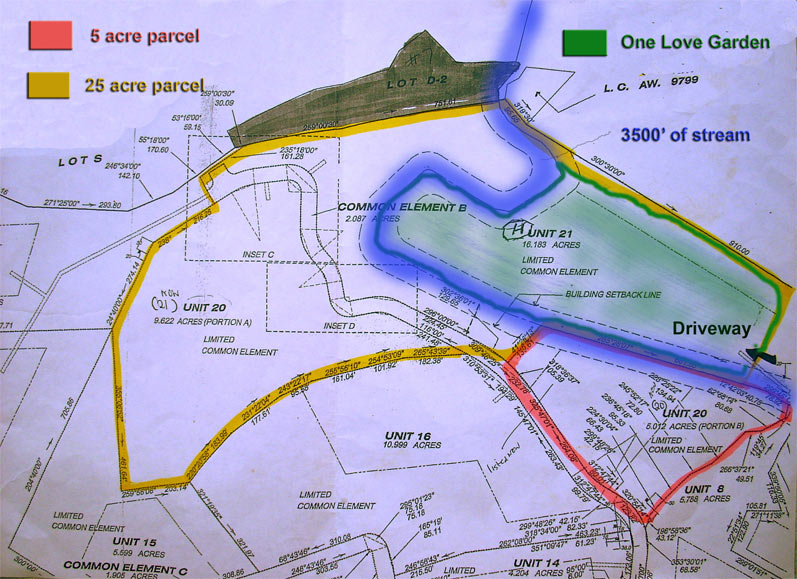 The area in green is the developed zone. See details below.
The current owner has worked diligently for many years to bring it to its current state of excellence, beauty and agricultural viability. The following are some of the trees he planted that are now 20-30 feet tall and bearing fruit.

100 Coconut trees (50 of which are of the Dwarf)
24 Mango trees
Avocado trees

12 Macadamia Nut trees
70 Neem Trees (very potent as an isecticide and many other uses)
There are several farm buildings including:
Main Building is stylish 20' octagon with add-on (approx. 750 sq. feet)
Secondary Building is 24' yurt-like octagon (650 sq. ft.) Both buildings are made of cedar and redwood with half-walls and are screened-in to keep out bugs and to allow the trade winds to blow through.

Tool Shed 12' by 30' with shelves and work bench
Greenhouse is 48' by 20' (900 sq. feet)
Some of the plants that grow well there are Kale • Chards • Collard Greens • and Cooking Herbs such as Basil
Among its many features are 2500-3000 feet of stream frontage and a swimming hole with rope swing.

There is an expansive view of the mountains and the ocean is within a mile.
As part of our mission to be the best Farm • Garden • School • and Retreat in Hawaii, the Kauai Center plans to offer fruits, vegetables, coconuts and other food and resources that come from the land to the people of the island. The cost will be half of whatever they are paying now. The present owner had the dream of a Jamaican-style pot cooking out front to serve those who stop by. I love the idea.
If you have any ideas, suggestions, concerns, etc. about how we are managing this land and/ or the Kauai Center, please call the director at (808) 854-5841.