Below is a partial list of services offered by our capable staff. These are among the best, simplest, most inexpensive methods discovered to date for simple and sustainable living. This includes creating a Farm • Garden • School • and Retreat for sustainable living in the 21st century.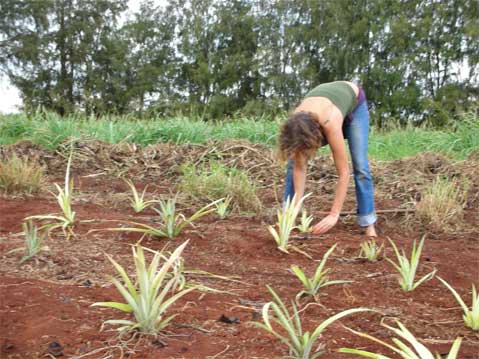 • Farm
Generating enough fruits, vegetables and other plants and trees to feed and provide for staff, students, clients, visitors, and fellow residents of Kauai. This includes a successful fruit-stand that is open six days per week and that is half the price of other fruit stands. There is also the vision and plan for serving up a hot kettle of Jamaican food at the entrance to the land.
• Garden
The Farm is made up of many small gardens and food forests of many different kinds. Gardening involves design, construction, and maintenance of garden beds; planting seeds, weeding, harvesting, and composting.
• School

This is a school because we are researching and learning more about Farming in Hawaii including Ancient Hawaiian Land Practice, sustainable living methods, about other cultures and ways of doing things.
Landcrafting





Landscape Design • Construction • Maintenance




Gardening & Terra-forming




Felling and Planting Trees


Natural Landscaping & Reclamation




Trail Building & Mapping




Waste Management (composting, recycling, and garbage clean-up)
Multi-media Production & Coordination



Creating YouTube and other internet videos for staff, students and clients
Research • Writing • Conducting Interviews


Filming • Editing • Publishing • DVD authoring • Broadcasting




DVD Package Design & Printing




Marketing: personal • local • global


Web-page Development

Healing Arts



Katsu-

Massage for the Workplace: 10 / 20 / 30 / 60 / 90 minute options


Assist Counseling-

professional listening and intuitive guidance


Absent Healing-

being able to help someone you love wherever they are in the world
Adventure Guiding





• Recon Adventure
• Guided Trips

• Solo Adventure

•

Inner Planes Travel: "Imagination is the most powerful tool humans possess."
We'll take you anywhere you want to go in the world with full sensory perception- see it, hear it, smell it feel it just as if you were there in person. There and back in 10-20 minutes.


Hawaii: Island of Kauai- Kokee Mountains / Kalalau Valley / Ocean & River Kayaking / Mountain Climbing / Sailing / Scuba Diving / Snorkeling / Paddle Boarding / Boogie Boarding
• Retreat

Retreat services at Kaua'i University are among the best in the world. These include R&R, good food, quiet, and peaceful surroundings. It also includes simple yet high-level, very effective meditation, healing arts, meditation, nutrition, counseling, massage and other services.
Guided Relaxation

- Meditation

-

Visualization

Guided Shaman Journey

Communicating helping to Heal people at a distance, including those who have died or "passed-on".
Note:
All services are $1 per minute for members and $3 per minute for non-members unless otherwise noted such as group rates that are available for trainings and courses.


Scholarships, Work-trade, and Financial Assistance are available. No one is turned away due to inability to pay.

Simply send us an email describing your situation to KauaiUniversity@gmail.com

and you will get a prompt reply of approval or suggestions of how you may best take advantage of the training, services and resources we provide.
Accommodations
Here are some of the coolest places
to live, work, play or just stay... on Kaua'i.